An Educational Visit to the Western Region
Main page content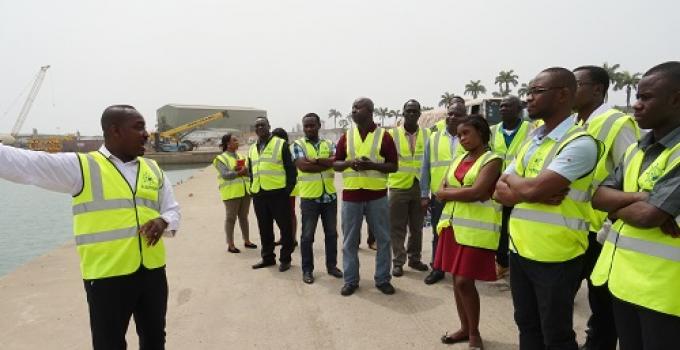 To observe the operations in some of the industries in Ghana, the teaching staff of the Department of Chemical Engineering, KNUST, embarked on a two day trip to the Western Region of Ghana. The Takoradi Harbour and the Gas Processing Plant at Atuabo were visited.
The Port Official explaining their operations
The Takoradi harbour, being the oldest port in Ghana handles about 5 million tonnes of cargo each year which includes manganese, bauxite and cocoa. The port also provides a wide range of services such as fabrication, ship and rig repairs, offshore supply and bulk handling among others to the offshore industry following the discovery of oil in Ghana in 2007. The Takoradi port is Ghana's main gateway to export, exporting about 80% of Ghana's cargo with Tema Port exporting the remainder, and it is rapidly becoming one of the success stories of West Africa. (Ghana Ports and Habour Authority, Handbook 2014/2015). Expansion project at the port which involves the extension of the breakwater by 1,080 m, dredging of the harbour basin and construction of a quay wall for bulk mineral and terminal operations, is currently ongoing.  The staff had the opportunity to visit various sections of the port including the ship yard and the wharf where the MSC container ship was offloading and loading simultaneously. The Staff visited this facility on 4th February 2016, the same day of arrival in Takoradi.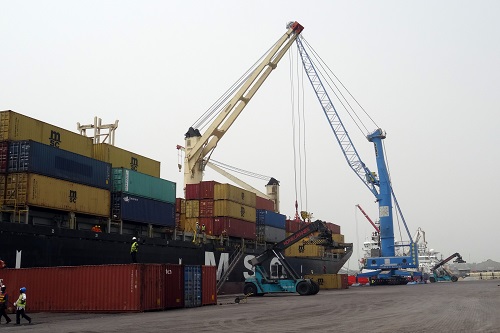 Staff fromThe Department of Chemical Engineering, KNUST together with staff  from the GPP, Atuabo
The team was then taken though the health and safety precautions after which Ing. Michael Mireku briefed members on their operations and led them to tour the facility. Products from the GPP are LPG, fuel gas and condensate.
'In just one word, the trip can be described as awesome', a staff remarked.